The Philadelphia
Contributionship
Digital Archives
About the Company
About the Collection
Essays and Exhibits
About the Company: Overview
On this page:
History, Office, Products
History
In 1752 Philadelphia's volunteer fire companies formed America's first successful property insurance company, The Philadelphia Contributionship for the Insurance of Houses from Loss by Fire. These men, led by Benjamin Franklin, recognized the economic hardship fire caused, and established a mutual insurance company in 1752 where policyholders could share their risks. They based its method of operation (and name) on that of the Amicable Contributionship of London, founded in 1696. The new company was conservative in its underwriting, sending surveyors to inspect each building before insuring it. Accepted properties sported fire marks: four clasped gilded hands mounted on wood plaques.
Office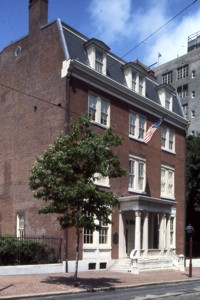 Despite the turmoil surrounding Philadelphia in the second half of the eighteenth century, the company was successful due to perseverance, thrift and good fortune. Recognizing they needed a permanent office, the directors commissioned Thomas U. Walter to design and build a handsome Greek Revival style structure on South Fourth Street. The building, completed in 1836, served multiple purposes: an office for the company, a meeting place for the directors and a home for the treasurer and his family. Although the treasurer's family moved out in 1898, this National Register building continues to serve as The Philadelphia Contributionship's headquarters. The company's collection of fire marks, early business and fire fighting equipment, portraits and superb furniture are displayed throughout the building.
Products
The Philadelphia Contributionship's first fire insurance policies were seven-year renewable term policies which covered the building against fire. In 1810 the company made these policies perpetual; the policyholder's refundable deposit serves to provide coverage until the policyholder or the company cancels the policy. A number of policies have been in force for decades. In the mid-twentieth century The Philadelphia Contributionship expanded its coverages, offering first a term homeowners policy and more recently a perpetual homeowners policy. In 1986 the company acquired Germantown Insurance Company and over the years has blended its property insurance operations with that of The Philadelphia Contributionship's. The company added Vector Security, a residential and commercial burglary and fire alarm installation and monitoring company, to its group of companies in the 1980s, feeling this type of operation complemented the protection The Philadelphia Contributionship offered homeowners. The Philadelphia Contributionship has also expanded its geographic limits. Initially limited to insuring Pennsylvania properties within a ten mile radius of Philadelphia, the company now offers its insurance products in numerous regions of Pennsylvania, New Jersey, Delaware and Maryland.